Headteacher Blog - Amy Cavilla

Amy Cavilla (Headteacher at Nonsuch High School for Girls) writes for the International Coalition of Girls' Schools (ICGS) about their journey towards a more diverse and inclusive curriculum through harnessing the power of collaboration.
Who are we?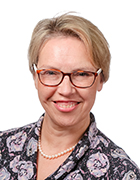 The Girls Learning Trust is made up of three all girls' state secondary schools in Sutton with around 4,500 students and 400 staff. Our Trust make-up is unique, and our vision is to be champions of excellence in girls' education, empowering young women to realise their full potential and shape the world. This purpose makes our connection with the mission of the ICGS a natural one.
How are we enriching our curriculum?
We began this work in 2020 as the impetus of the Black Lives Matter movement globalised following the murder of George Floyd. Our students wanted to see change and be part of it. A trust Race Equality Steering group made up of students, alumni, parents, teachers and governors was formed. The trust group has been invaluable in facilitating the sharing of approaches within its schools. We have learned from Carshalton Girls' School about creating safe spaces for staff discussion of sensitive topics and their approach through whole school literacy; and from Wallington Girls' their student engagement and consideration of how staff encourage intellectual freedom in debate. From Nonsuch we shared our student engagement work but also how we have been going about making curriculum change.
Student engagement: CARE (Champions of Anti Racism and Equality)
Students and staff could both see that whilst exam boards would be slower to make changes to GCSE and A level courses, we had the freedom to start with KS3 and the time then to build the curriculum from its foundations. The student race advocacy group developed a full student council scheme of delegation with job descriptions, advised by an ex-Nonsuch graduate who works to champion diversity and inclusion in the workplace. The group then became the CARE council, standing for "Champions of Anti-Racism and Equality". Students sit on one of four strands: curriculum, communications, events, allyship and reporting, with representation from each year group. Students in the curriculum strand have met with Heads of Department with a view to hearing about proposed curriculum enrichment plans and to comment. They have also prepared resources for tutorials during Black History Month and some PSHE lessons. Recently, Nonsuch students met with curriculum ambassadors from Kingston University to learn about the training the ambassadors receive in order to review undergraduate degree course content.
Curriculum change: adopting a subject-specific approach through creating links with universities
The leadership team started by considering the areas discussed at the Trust Race Equality Steering group which was fortunate to have parents on it who were well connected with universities and other bodies who could assist. This led to us choosing to introduce the UNICEF Rights Respecting Schools framework, based on the articles on the UN (United Nation) Convention on the Rights of the Child. We are mapping the articles thematically against our curriculum including PSHE (Personal, Social, Health and Economic).
Teachers soon realised that the challenge was knowledge and that, for example in English, teachers raised on the canon of English Literature, needed to widen their knowledge on other contexts and titles and to share protocols on how to agree approaches with students when approaching sensitive topics. In History, it meant ensuring that themes such as immigration, the role of women and disability/accessibility featured each year throughout KS3. Further developing the unit comparing medieval societies across the globe made a good starting point.
We realised we needed to assess each subject's starting point to enable meaningful change. Our Teaching and Learning CPD (Continuing Professional Development) lead, along with the Deputy Head, drew up a framework for evaluating each subject's curriculum to spot missed opportunities for diversifying the curriculum.
The link with SOAS (School of Oriental and African Studies, University of London)
Colleagues from the history department met with a senior lecturer from SOAS university to review their Key Stage Three topics and how they have mapped out the themes; they received feedback on some of their enquiry questions and whether they would have the desired impact. The university shared many historical sources with the department which they have now incorporated into various lessons, for example: a unit on the Mughal Empire, the colonisation and decolonisation of India. They have found this peer review extremely rewarding and students have commented positively on the new resources. For example, one student shared the following feedback: 'I enjoyed the lesson because it felt as though I could fully be involved- sharing my own stories and ancestors' experience as well as feeling as though the lesson was more relevant to me and something to link my own knowledge with. I think it is important to learn more about different countries and to diversify the curriculum to ensure all students have the chance to engage, participate and share their stories in lessons.'
The link with Kingston University
The ambition then was to assist other colleagues with establishing subject-specific links with universities to aid them in enriching their curricula. Kingston University, which is in the neighbouring borough, has an award-winning Excellence Framework for an Inclusive Curriculum. A senior lecturer, consultant and two under-graduate curriculum consultants visited our school to describe their work and establish links with subject leads at Nonsuch. This provided an opportunity for other subject areas to link up with colleagues in Higher Education for an exchange of ideas. Colleagues in the departments of Geography and Science have already sought more support with reviewing and enriching their teaching. In geography this has led to a review of how and where fieldwork is conducted.
Inclusive pedagogy
It is hard to anticipate all the pitfalls when updating the curriculum and so delivery is as crucial as content. We create safe spaces for discussion and have received training to provide strategies regarding how teachers can respond appropriately when an unanticipated challenge arises in the classroom. The strategies shared include proposing a "Challenge Paper" which invites students to undertake some research and the teacher to have some time to reflect and plan the approach for the next lesson.
What next?
We have reviewed Year 7 schemes of learning across the school and provided feedback and colleagues are working on this one year at a time. Links are still forming but for them to be effective, they need to be owned at a department-level with the school providing access to expertise, CPD time and an evaluation framework. Our schemes of learning include clear questions linked to inclusivity to guide development.
What does it take for collaboration to really take off?
Collaboration provides a network of safe spaces to reflect and connect. The more we do this, the greater the collective perceived need for change. It requires energy and constant review and the opportunity to talk to create understanding and engagement.
The Girls Learning Trust annual conference 2023 and the launch of our association with the ICGS
For collaboration to stick, we needed a "re-gathering of the clans" of our schools across the Trust. We had not met in person since 2019 due to the pandemic. Under the banner of "Students and Staff as Creators, Innovators and Risk-takers" we are meeting after February half-term for a day. We will hear keynotes from speakers with backgrounds in addressing intersectionality in education and the importance of greater representation of women in tech. Sharon Cromie, as the UK Regional Director of the International Coalition of Girls Schools (ICGS), will share the benefits our positioning within the ICGS has already brought and can further provide. Access to research carried out by the Global Action Research Collaborative (GARC) can provide further support to meet our aim for an inclusive and empowering curriculum. A GARC fellow is also joining our conference to share their action research piece about developing girls' resilience in scientific enquiry. Staff from across our Trust are delivering 34 CPD sessions for teaching and support staff; a number of whom will be sharing their implementation projects underpinned by their study of various National Professional Qualifications.
The 2023 Conference already feels a world away from when we last got together in person in 2019. We will be: sharing our resources via a Sharepoint site available via QR codes from delegates' mobile phones on the day; encouraging colleagues to bring their keep cups and refillable water bottles to drinks stations; and participating in sessions on topics as diverse as Artificial Intelligence, Emotional-Based School Avoidance and The Menopause.
Whilst two successive lockdowns created huge setbacks for the girls' school advantage, the pandemic has also helped us appreciate the power of human connection and accelerated our agenda for collaboration, sustainability, digital teaching and learning and inclusivity.
Amy Cavilla
Headteacher (Nonsuch High School for Girls)