Headteacher Blog // Amy Cavilla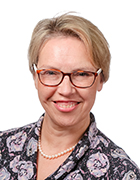 At this time of year, where lots of schools like ours are recruiting new staff, I often get asked about the benefits of working in an all-girls environment. So, I thought I'd put a few thoughts down on paper, backed up by some research we've accessed through our membership of the International Coalition of Girls' Schools.
Working in an all-girls' school offers a unique and rewarding experience for staff members – both teaching and support. Schools like ours provide an environment where girls thrive academically, develop strong leadership skills, and cultivate self-confidence. Breaking these down a bit:
Academic Achievement: All-girls schools have a proven track record of academic excellence. Research conducted by Dr. Tiffani Riggers-Piehl at the University of Kansas City, Missouri, highlights that over two-thirds of girls' school graduates frequently support their arguments with logic, a skill that mixed school graduates are less likely to possess. Moreover, girls' school students report receiving more frequent feedback on their assignments and coursework compared to their counterparts in mixed schools, ensuring a more personalised and supportive learning experience.
Self-Confidence: Girls' schools foster an atmosphere that empowers young women and enhances their self-confidence. According to studies, 60% of girls' school graduates have higher self-confidence compared to girls in co-ed schools. These institutions create a supportive environment where girls feel respected, valued, and encouraged to express their opinions. Nearly 87% of girls' school students feel that their opinions are respected at their school, in contrast to 58% of girls in mixed schools.
Aspirations and Motivation: All-girls schools play a vital role in shaping the aspirations and career goals of their students. Research indicates that students at girls' schools have higher aspirations and greater motivation. More than two-thirds of girls' school students expect to earn a graduate or professional degree, reflecting their ambitious mindset. Furthermore, girls' school graduates are six times more likely to consider pursuing degrees and careers in Mathematics, Science, and Technology, fields traditionally dominated by men.
Leadership Opportunities: All-girls schools provide an environment where girls take centre stage and assume all the leadership roles on offer. Within these institutions, girls have the chance to thrive without the constraints of stereotypical gender roles. They actively engage in collaborative activities and excel in academic, cultural, and sporting pursuits. By working in an all-girls school, staff members have the privilege of witnessing the growth and development of young female leaders who will shape the future.
Research-Backed Benefits: The advantages of all-girls schools are well-documented. Studies conducted by Dr. Richard A. Holmgren at Allegheny College and the Goodman Research Group emphasize the positive impact of all-girls education. These studies confirm that all-girls schools provide an environment conducive to academic and social engagement, fostering a sense of empowerment and self-worth amongst their students.
In conclusion, staff members should consider working in all-girls schools such as Nonsuch High School for Girls due to the numerous advantages they offer. These institutions empower girls academically, instil self-confidence, and nurture aspirations for higher education and challenging careers. By joining an all-girls school, staff members have the opportunity to make a meaningful difference in the lives of young women, supporting their growth, and witnessing their remarkable achievements; the rewards are palpable. Equity for girls and women improves equality for all.
Amy Cavilla
Headteacher (Nonsuch High School for Girls)
Sources:
Dr. Tiffani Riggers-Piehl, University of Kansas City, Missouri, Fostering Academic and Social Engagement: An Investigation into the Effects of All-Girls Education in the Transition to University
Dr. Richard A. Holmgren, Allegheny College, Steeped in Learning: The Student Experience at All-Girls Schools
Goodman Research Group, The Girls' School Experience: A Survey of Young Alumnae of Single-Sex Schools