New catering contract announced

We're delighted to announce that after an extremely competitive tender process, Cucina have been selected by the Girls' Learning Trust as our new catering provider across all three schools for the next three years.
Recognizing the importance of catering services in supporting student wellbeing and fostering a positive learning environment, we embarked on an innovative approach in January that involved students and staff from all three schools in all stages of the decision-making process.
From the outset, it was clear that we were seeking a catering partner who would not only provide nutritious and appealing fresh meals but also prioritise environment sustainability, variety, the accommodation of diverse dietary requirements, and the desire to work with students, parents and staff to continuously improve. Central to the decision-making process was the engagement of students, who actively participated in surveys, taste tests, menu reviews, and were included in the final interview panels alongside staff members and Trust representatives. Their invaluable insights and feedback played a pivotal role in selecting the catering provider that would best cater to their needs and their preferences.
Student representatives at Carshalton High School for Girls commented: "This experience gave us as students a direct say on behalf of our peers to how we want our food and drink in the next coming school year. It also gave us insight as to what a business pitch can look like first-hand.".
Helena Wright (Deputy Headteacher at Nonsuch High School for Girls) commented: "It was a really positive experience to be a part of. The Trust made it clear from the outset that its role was to find a catering provider that all schools would be excited by – rather than simply impose something on us. We're all excited to see the changes from September and thank you to everyone involved".
Student representatives at Wallington High School for Girls commented: "Being part of the process from the start to the finish gave us a real insight into how a large contract is awarded – and helped us develop critical skills when we were asked to present student priorities and ask tough questions during the interview process. The food we got to taste during the day was an added bonus!".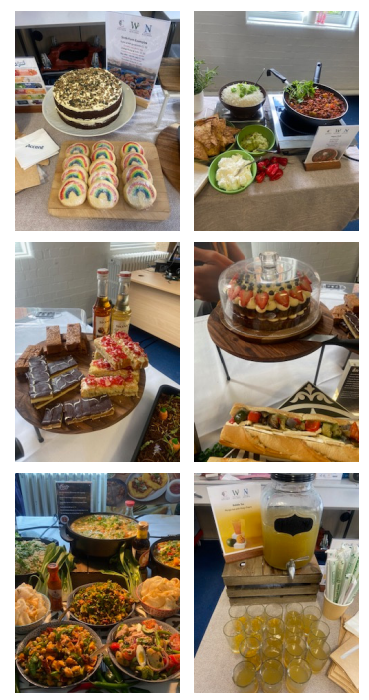 After careful consideration, Cucina emerged as the unanimous choice, winning the confidence of staff and students with their innovative menu concepts, fresh ingredients, and a track record of providing exceptional catering services to other schools in the local area. Their commitment to sustainability, including locally sourced produce and reducing food waste, resonated strongly with our vision for a greener and more environmentally conscious future.
You can read more about Cucina in the attached flier – with more information available in September in line with the new academic year. Changes will be rolled out during the autumn term and all current payment and operational processes for students and parents will remain unchanged